Chocolate Milk
Chocolate milk contains an optimal carbohydrate to protein ratio, which is critical for helping refuel tired muscles after strenuous exercise and can enable athletes to exercise at a high intensity during subsequent workouts.
Chocolate milk's ideal combination of thirteen essential nutrients boost energy and help restore and rebuild muscles. And best of all, this nutrient dense recovery drink is all natural.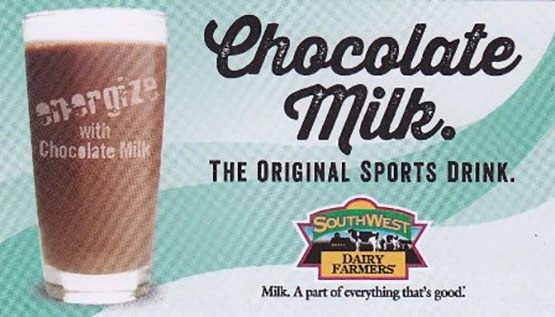 Low fat chocolate milk is:
A natural source of high-quality protein to build lean muscle.
The right carb-to-protein ratio scientifically shown to refuel and rebuild exhausted muscles.
Vitamin A to support a healthy immune system and normal vision.
Electrolytes including calcium, potassium, sodium and magnesium to help replenish what's lost in sweat.
B vitamins for energy.
Fluids to rehydrate.
Calcium, vitamin D, phosphorus, protein and potassium to build and maintain strong bones and help reduce the risk for stress fractures.