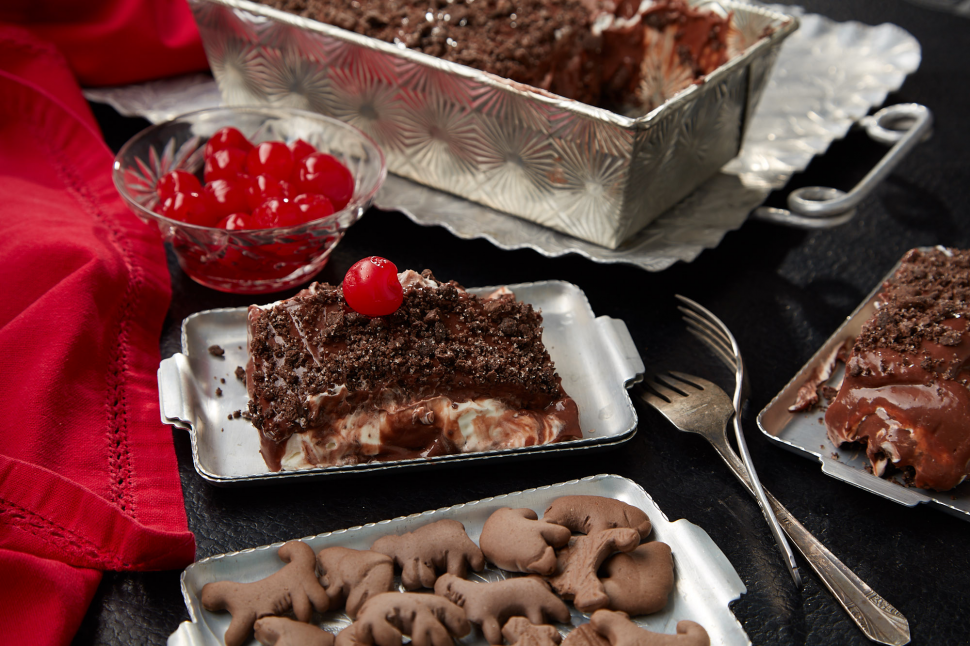 ---
Ingredients
Base:
2 cups crushed chocolate animal crackers
6 tablespoons melted butter
2 tablespoons sugar
Whipped Cream:
1 1/2 cups heavy cream
3 tablespoons sugar
Cream Cheese Layer:
8 ounces cream cheese, softened
1 cup powdered sugar
1 1/2 cups of the whipped cream once it is whipped with sugar
Pudding Layer:
1 family size pkg. instant chocolate pudding
3 cups milk
Optional
Maraschino cherries
Instructions
Preheat oven to 375 degrees. Place bowl in which you will whip cream into freezer.
In another bowl, mix animal crackers, sugar and butter together. Press mixture into bottom of 13 x 9 baking dish.
Bake for 10 minutes. Allow to cool completely.
Take bowl out of freezer and whip cream and sugar together. Whip until nice stiff peaks form. In another bowl, cream together powdered sugar and cream cheese. Scoop up 1 1/2 cups whipped cream and gently fold into cream cheese mixture. Spread onto chocolaty base.
Beat together pudding with the milk. Once pudding is setting up, spoon over cream cheese layer and smooth out. Top with the remaining whipped cream and pudding.
Chill completely. Cut into squares to serve. You can dress up your tuxedo dessert with bright red bow ties. If desired, top each square with a maraschino cherry.