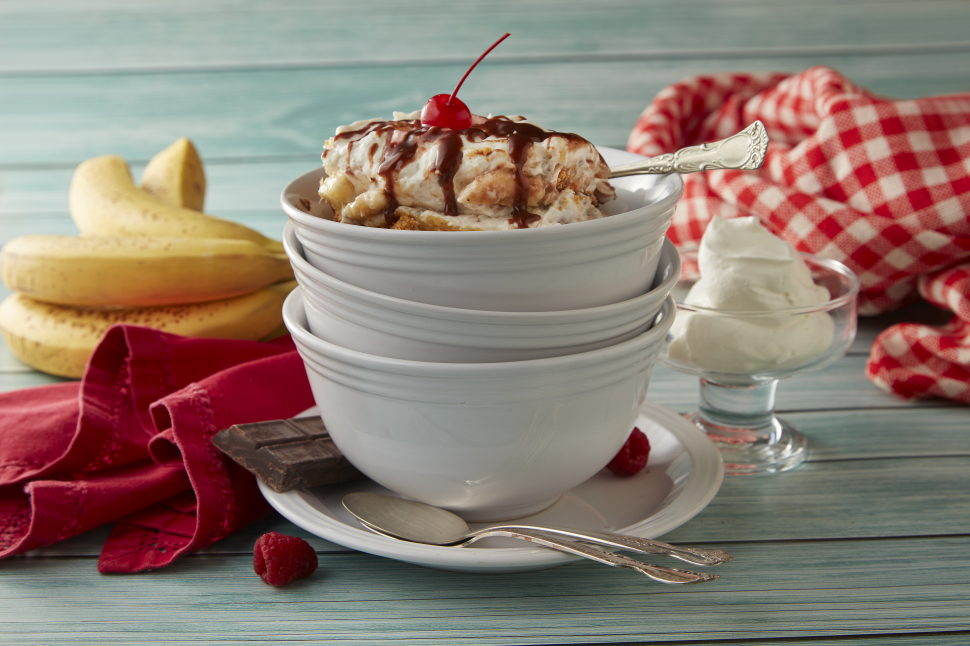 ---
Ingredients
Ingredients for graham cracker crust:
3 cups graham cracker crumbs
1/2 cup sugar
3/4 cup melted butter
Ingredients for fudge sauce:
4 ounces German chocolate bar
2 cups heavy cream
2/3 cups sugar
1/8 teaspoon salt
1/2 cup butter
1 teaspoon vanilla
Ingredients for cream cheese filling:
2 cups heavy cream
1 1/2 cups powdered sugar
1 teaspoon vanilla
12 ounces cream cheese (softened)
1 cup crushed pineapple (drained)
3/4 cup coconut
1/2 cup pecans (chopped)
3 bananas (sliced)
About a dozen maraschino cherries for topping
Instructions
Directions for graham cracker crust: Combine all ingredients and press into the bottom and halfway up the sides of a 9x13 dish. Bake at 350 degrees for 8 – 10 minutes. Set aside to cool.
Directions for fudge sauce: In a heavy saucepan, combine all ingredients, except vanilla. Bring to a boil and boil for 4 minutes. Add vanilla and set aside to cool.
Whip the cream and ½ cup of the powdered sugar and 1 teaspoon vanilla. Set aside. Blend cream cheese, remaining cup of powdered sugar, pineapple, coconut and pecans. Begin layering. On top of the graham cracker crust, spread about 2/3 of the chocolate sauce, then arrange the sliced bananas. On top of the bananas, spread the cream cheese filling. Drizzle the remaining chocolate sauce and decorate with the maraschino cherries.This dessert can be served cold from the refrigerator or frozen from the freezer.*Tip for the perfect whipped cream – freeze the mixing bowl and wire beater before whipping the cream.