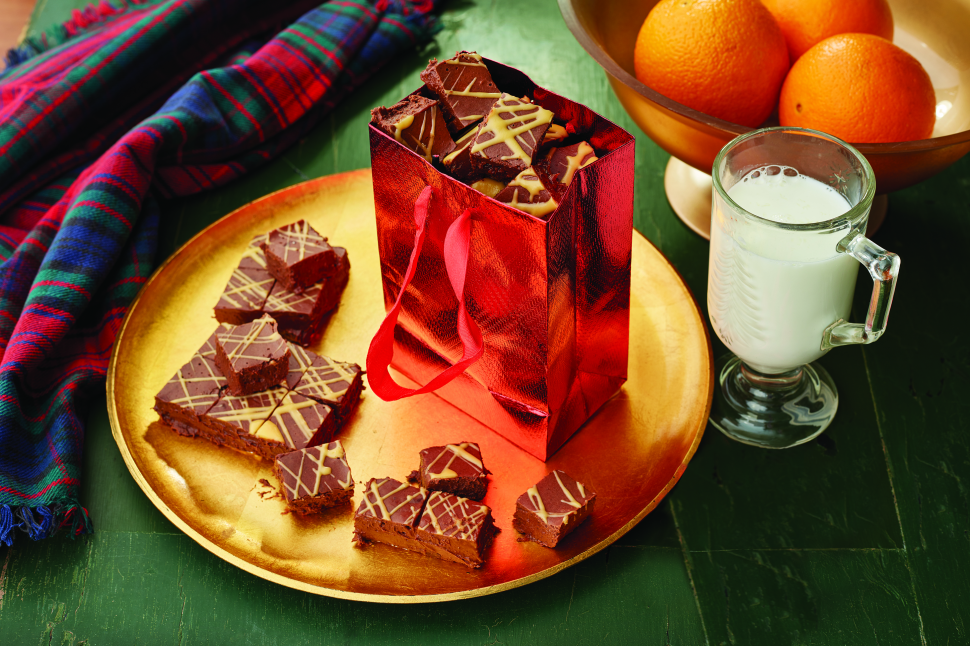 ---
Ingredients
1 cup orange sections (dried)
1 tsp cardamom
1 tsp cinnamon
2/3 cup evaporated milk
2 cups sugar
2 tbsp butter
1 tsp salt
3 cups dark chocolate chips
2 cups marshmallow cream
1 tsp vanilla
Instructions
In a small bowl, mix together oranges, cardamom and cinnamon. Let sit for 5 minutes.
In a 9x13 inch pan, place nonstick foil and spray with cooking spray. Set aside.
In a saucepan over medium high heat, stir in evaporated milk, sugar, butter and salt. Add orange mixture and mix thoroughly. Bring to a rolling boil stirring constantly. Boil for 5 minutes. Add in chocolate chips, marshmallow cream and vanilla. Remove from heat. Stir until completely melted and mixture looks smooth and thoroughly blended.
Pour into prepared pan and let cool until set, about 3 hours.
Tip: To make dried orange sections, remove white from oranges and cook in a 350 degrees oven for approximately 30 minutes or until orange sections are dry.
Variations: Glaze fudge with orange glaze made with melted white chocolate and orange food coloring.