Creamy Tomato and Bread Tuscan Soup with Classic Grilled Cheese Sandwich
View Video Print Recipe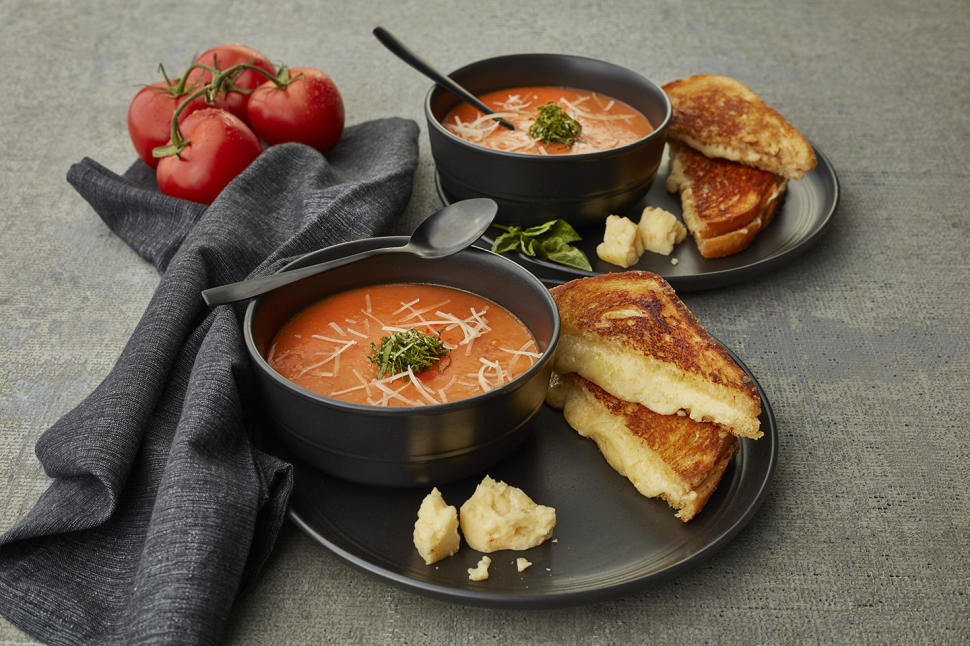 ---
Ingredients
Ingredients for Soup:
1 tbsp butter
1 large yellow onion (chopped)
salt and pepper to taste
pinch of red chili flakes
1 tbsp crushed garlic
2 cups old champagne
2 pounds fresh tomatoes (diced)
2 cups tomato juice
2 cups day old bread (1/2 inch cubed)
Parmesan cheese for garnish
basil for garnish
Extra Virgin Olive Oil for garnish
Ingredients for Sandwich:
2 slices sourdough bread
2 slices aged cheddar cheese
softened butter
Instructions
Directions for Soup: In a large pot, sauté onion in butter with salt, pepper, red chili flakes and garlic over medium heat until onions are soft and translucent. Add champagne and reduce volume by half. Add tomatoes and cook until soft, about 8 to 10 minutes. Mix in tomato juice and bread into tomato mixture.
Add mixture to blender in batches and then return to pot. Use caution: Be careful when blending hot liquids. Cook for 20 minutes until thick, lowering heat if necessary. Garnish soup with Parmesan cheese, basil and olive oil.
Directions for Sandwich: Butter both sides of both pieces of bread. Toast one side of each piece of bread. Flip over bread to toast other side and place a piece of cheddar cheese on each one to begin melting while second side is toasting. Place together.
Tip: Add Dijon mustard inside the sandwich for a little extra kick. Variation: Substitute cheddar cheese with pepper jack cheese or your favorite cheese. Substitute old champagne with sparkling white wine.