Coconut, Caramel, Cinnamon 3 Milk Cake (3C3M Cake)
View Video Print Recipe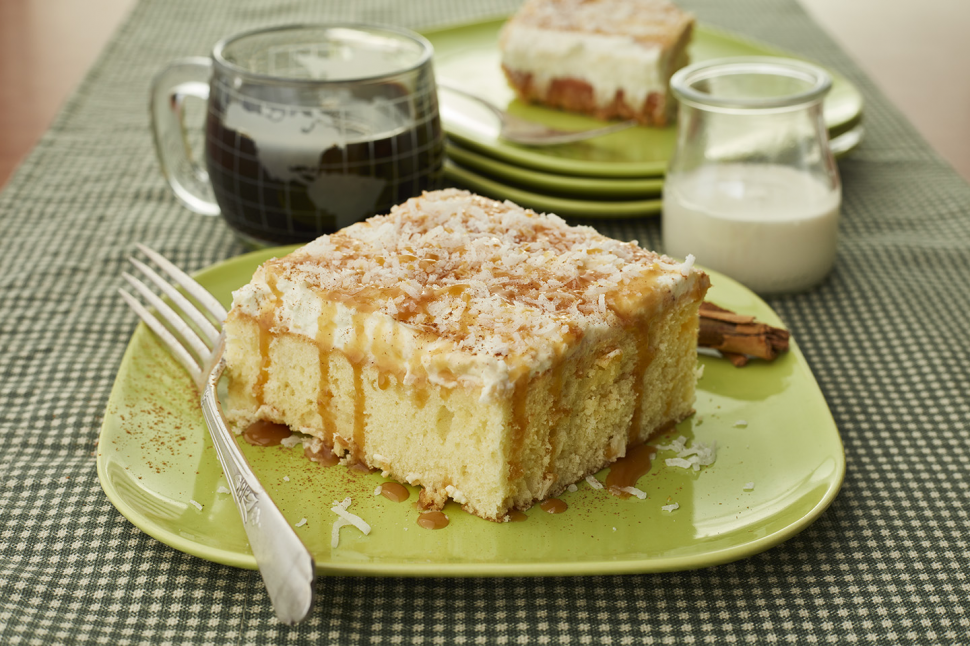 ---
Ingredients
Ingredients for Cake:
1 1/2 tsp baking powder
1/4 tsp salt
2 cups all-purpose flour
5 eggs separated
3/4 cup + 1/4 cup sugar (for separate use)
1/3 cup milk
1 tsp vanilla extract
1/2 cup butter (melted)
Ingredients for 3 Milks:
1/4 cup heavy cream
1 can (14 oz) sweetened condensed milk
1 can (12 oz) evaporated milk
1/2 tsp cinnamon
Ingredients for Whipped Icing:
1 pint heavy whipping cream
3 tbsp sugar
Ingredients for Toppings:
6 oz. caramel sauce
1/2 tsp cinnamon
8 oz. sweetened coconut flakes
Instructions
Preheat oven to 350 degrees. Grease and lightly flour a 9x13 inch cake pan. In a large bowl, mix flour, baking powder and salt. Separate the eggs. Using a mixer, beat egg yolks with 3/4 cup sugar on high speed until yolk mixture is a pale yellow. Stir in milk, vanilla extract and melted butter. Add flour mixture and stir to combine.
In a separate bowl, beat egg whites on high speed until soft peaks begin to form. Add remaining 1/4 cup sugar and continue to beat the egg whites into stiff peaks. Gently fold egg whites into the batter until combined.
Pour and spread evenly into cake pan. Bake cake for 25 to 35 minutes or until toothpick comes out clean. Let cool.
After cake has cooled, poke holes throughout the cake using handle of wooden spoon.
Mix together heavy cream, condensed milk, evaporated milk and cinnamon. Pour the milk mixture over cake to cover holes. Allow cake to absorb milk.
Combine heavy whipping cream and sugar. Whip until thick or desired consistency. Spread the whipped topping over the entire cake. Drizzle with caramel and cinnamon. Sprinkle with sweetened coconut flakes.
Refrigerate until ready to serve Refrigerate any remaining cake.