Chicken and Mushrooms with a White Wine Cream Sauce
View Video Print Recipe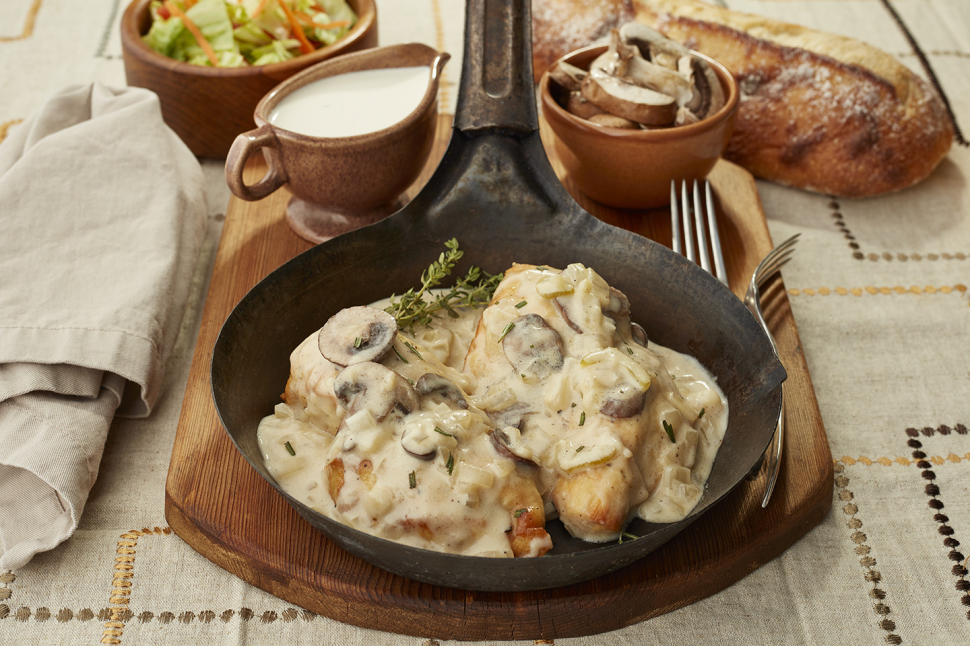 ---
Ingredients
2-3 boneless whole chicken breast
salt and pepper to taste
1/2 cup of butter + 1 tbsp butter (for separate use)
1 large onion (chopped)
1 whole stalk celery (sliced)
1 large bay leaf
1/3 lb. mushrooms (sliced)
1 cup dry white wine
2 1/2 cups hot chicken broth or bouillon
1/2 cup milk
juice of 1/2 lemon
1/2 cup heavy cream
3 tbsp flour
Instructions
Season chicken with salt and pepper and sear in 1/2 cup of butter until almost done. Remove from sauté pan and let rest.
In the same sauté pan combine onion, celery and bay leaf and cook until onions are translucent.
Add mushrooms and white wine and cook until wine is reduced by half. Add chicken broth or bouillon, milk, lemon juice and heavy cream. Let simmer until mushrooms soften.
Whisk in flour and remaining butter. Remove bay leaf. Stir to combine. Add chicken and simmer until done.
Tip:Substitute chicken with either steak or veal. (If using steak or veal we suggest substituting chicken broth with beef broth or bouillon).