Parmesan Chicken Bacon Carbonara
Print Recipe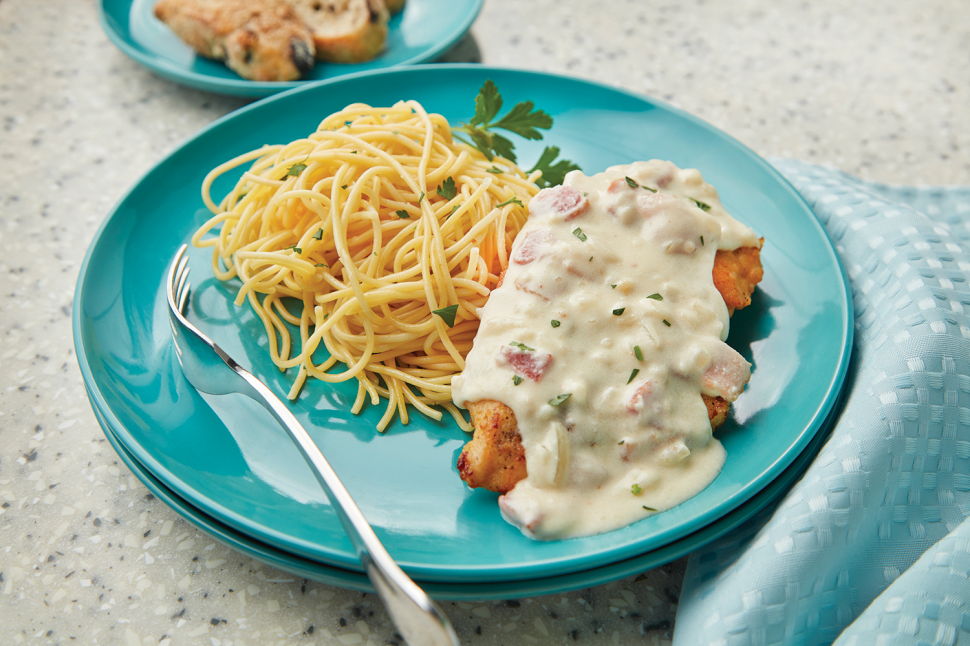 ---
Ingredients
2 skinless and boneless chicken breasts (butterflied and cut in half)
2 heaping tbs flour
3 tbs Parmesan cheese (finely grated)
salt and pepper to taste
For the Sauce
1 tbs olive oil
2 tsps butter
8 ounces bacon (diced)
1 small onion (chopped)
1 tsp minced garlic
1 1/2 cups half and half
1/2 cup Parmesan cheese
1/2 cup Mozzarella cheese
Instructions
Season chicken breasts with salt and pepper.
In a shallow bowl, combine flour and 3 tablespoons Parmesan cheese. Dredge chicken in flour mixture. Set aside.
In a large non-stick pan, heat the oil and butter on medium heat until pan is hot. Fry the chicken breasts until golden on both sides (cooked through and no longer pink). Place chicken breasts on plate and set aside.
Add diced bacon to the pan and fry until crispy. Pour out excess bacon fat. Add onions and garlic and cook until onions are transparent. Reduce to low heat. Add the half and half. Bring the sauce to a simmer. Add the Parmesan cheese and the Mozzarella cheese. Stir until melted.
Add chicken breasts back to the sauce. Garnish with freshly chopped parsley.