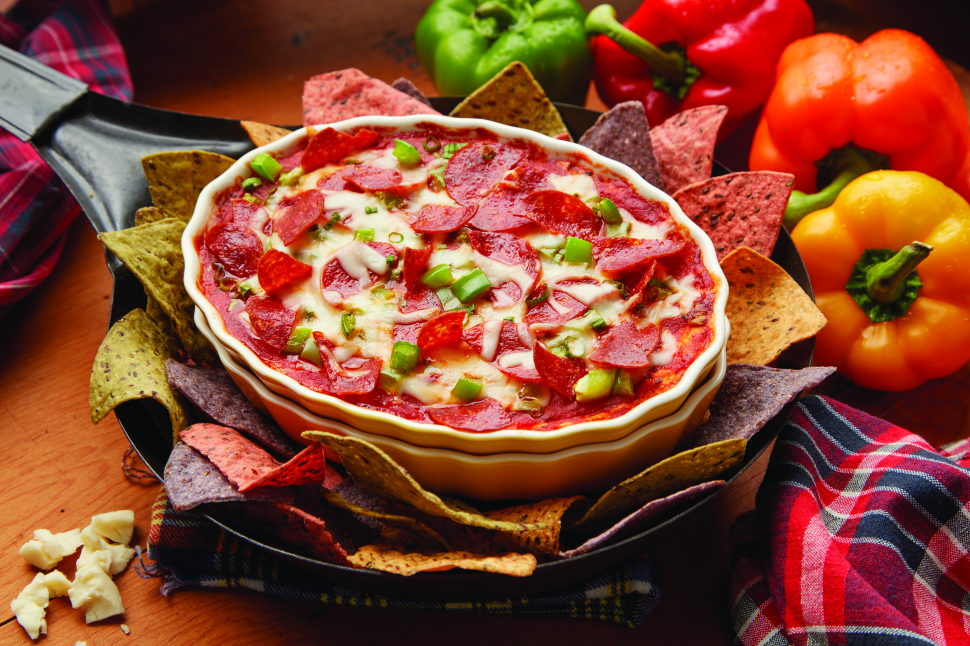 ---
Ingredients
1 (8-ounce) package cream cheese
1/2 cup sour cream
1 teaspoon oregano, crushed
1/8 teaspoon garlic powder
1/8 teaspoon red pepper flakes, crushed
1/2 cup pizza sauce
1/2 cup pepperoni, chopped
1/4 cup green onion, chopped
1/4 cup green pepper, chopped (optional)
1/2 cup Mozzarella cheese, shredded
Instructions
Preheat oven to 350 degrees. In a medium mixing bowl, combine cream cheese, sour cream, oregano, garlic powder and red pepper flakes. Spread evenly on 9 or 10- inch quiche or glass pie plate.
Spread the pizza sauce over the cheese layer. Sprinkle with pepperoni, green onions and green peppers.
Bake in preheated oven for 10 minutes. Remove from oven and sprinkle evenly with shredded Mozzarella cheese.
Return to oven and bake for another 5 minutes or until cheese is melted. Serve with tortilla chips or crackers.
Variation Tip: Best served when warm. Try substituting your family's favorite pizza toppings.